567 views
Cabell "Cab" Calloway III (December 25, 1907 – November 18, 1994) was a jazz singer, bandleader, composer and actor. He was strongly associated with the Cotton Club in Harlem, New York City, where he was a regular performer. Calloway was a master of energetic scat singing and led one of the United States' most popular big bands, Cab Calloway and his Orchestra, from the start of the 1930s through to the late 1940s. Calloway's band featured performers including trumpeters Dizzy Gillespie and Doc Cheatham, saxophonists Ben Webster and Chu Berry, New Orleans guitar ace Danny Barker and bassist Milt Hinton. Calloway continued to perform until his death in 1994 at the age of 86. Calloway was born to a middle-class family in Rochester, New York, and lived there until 1918. He later lived in Baltimore, Maryland. His father, Cabell Calloway II, was a lawyer, and his mother, Martha Eulalia Reed, was a teacher and church organist. His parents recognised their son's musical talent, and he began private voice lessons in 1922. He continued to study music and voice throughout his formal schooling. Despite his parents' and vocal teachers' disapproval of jazz, Calloway began frequenting and eventually performing in many of Baltimore's jazz clubs, where he was mentored by drummer Chick Webb and pianist Johnny Jones. After graduating from high school, Calloway joined his older sister, Blanche, in a touring production of the popular black musical revue Plantation Days (Blanche Calloway herself went on to become an accomplished bandleader before her brother did, and he often credited his inspiration to enter show business to her). Calloway attended Lincoln University, Pennsylvania , and left in 1930 without graduating. When the tour ended in Chicago in the autumn, Cab decided to remain in Chicago with his sister, who had an established career as a jazz singer in that city. His parents had hopes of their son becoming a lawyer like his father, so Calloway enrolled in Crane College. His main interest, however, was in singing and entertaining, and he spent most of his nights at the Dreamland Cafe, the Sunset Cafe, and the Club Berlin, performing as a drummer, singer, and emcee. At the Sunset Cafe he met and performed with Louis Armstrong who taught him to sing in the scat style. The Cotton Club was the premier jazz venue in the country, and Cab Calloway and his Orchestra (he had taken over a brilliant but failing band called "The Missourians" in 1930) were hired as a replacement for the Duke Ellington Orchestra while they were touring. Calloway quickly proved so popular that his band became the co-house band with Ellington's, and he and his group began touring nationwide when not playing at the Cotton Club. Their popularity was greatly enhanced by the twice-weekly live national radio broadcasts on NBC at the Cotton Club. Calloway also appeared on Walter Winchell's radio program and with Bing Crosby in his show at the Paramount Theatre. As a result of these appearances, Calloway, together with Ellington, broke the major broadcast network colour barrier.
Unlike many other bands of comparable commercial success, Calloway's gave ample soloing space to its lead members, and, through the varied arrangements of Walter 'Foots' Thomas, provided much more in the way of musical interest. In 1931, he recorded his most famous song, "Minnie the Moocher". That song, together with "St James Infirmary Blues" and "The Old Man of the Mountain", were performed for the Betty Boop animated shorts Minnie the Moocher, Snow White, and The Old Man of the Mountain respectively. Through rotoscoping, Cab not only gave his voice to these cartoons but his dance steps as well. Cab took advantage of this and timed his concerts in some communities with the release of the films in order to make the most of the attention. As a result of the success of "Minnie the Moocher" he became identified with its chorus, gaining the nickname "The Hi De Ho Man". He also performed in a series of short films for Paramount in the 1930s (Calloway and Ellington were featured on film more than any other Jazz Orchestra of the era). In 1943 he appeared in the high-profile 20th Century Fox musical film, Stormy Weather. In his later career, Calloway became a popular personality, appearing in a number of films and stage productions that utilised both his acting and singing talents. In 1952, he played the prominent role of Sportin' Life in a production of the Gershwin opera Porgy and Bess. Another notable role was Yeller in The Cincinnati Kid (1965). In 1967 Calloway co-starred as Horace Vandergelder in an all-black revival of Hello, Dolly! (even though the original production was still running) starring Pearl Bailey. This was a major success, and led to a cast recording released by RCA. In 1973-1974 he was featured in an unsuccessful Broadway revival of The Pajama Game. Calloway attracted renewed interest in 1980 when he appeared as a supporting character in the film The Blues Brothers, performing "Minnie the Moocher", and again when he sang "The Jumpin' Jive" with the Two-Headed Monster on Sesame Street. This was also the year in which the cult film Forbidden Zone was released, which included rearrangements and parodies of Cab Calloway songs written by Danny Elfman, a Calloway fan. On 18th November 1994 Calloway died, having suffered a major stroke six months earlier. In 1998, The Cab Calloway Orchestra (directed by Cab's grandson C. "CB" Calloway Brooks) was formed to honour Cab Calloway's legacy nationally and internationally.
Read more on Last.fm
. User-contributed text is available under the Creative Commons By-SA License; additional terms may apply.
Top Tracks
1
Minnie the Moocher
2
Reefer Man 3
Everybody Eats When They Come to My House
4
St. James Infirmary
5
Minnie the Moocher (Theme Song)
6
The Scat Song 7
Hi De Ho Man
8
The Calloway Boogie
9
The Jumpin' Jive
10
Jitter Bug
Top Albums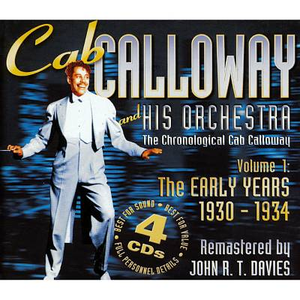 The Early Years 1930-1934
tracks
Are You Hep to the Jive?
tracks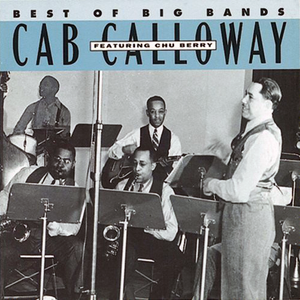 Best Of The Big Bands
tracks