51 views
Nick Curran (September 30, 1977 – October 6, 2012) was an American blues/rock & roll singer and guitarist. . In his time he was likened to Guitar Slim, T-Bone Walker, Little Richard, and was clearly influenced by Amos Milburn. In 2008, Curran formed the rock 'n' roll roots band, Nick Curran and the Lowlifes. Curran grew up in the Portland, Maine area, where his father was a professional musician. His father would give him The Fabulous Thunderbirds and Duke Robillard records and say, "If you want to be a good guitar player, learn all these solos, every note!" At 15 Curran was playing guitar with his father's blues band, Mike Curran and the Tremors. By the time he was 18, Curran was playing guitar in a local rockabilly band, when he was introduced to rockabilly legend Ronnie Dawson. He joined Dawson's band and began his first national tour, playing guitar with Dawson for the next six months. His reputation as a hotshot guitarist was beginning to spread. When he got off the road from Dawson's tour, he got a call to go back out on the road with Texas rockabilly queen Kim Lenz. His guitar work on that tour impressed Lenz so much she asked Curran to move from New England to Dallas to join her backup band, the Jaguars. He stayed in that band for two years, getting some recording experience along the way on one of Lenz' albums, The One And Only. Curran immersed himself in the vibrant blues traditions in Dallas as well as the roots music scene in Austin. He even did a touring stint with retro-country musician Wayne Hancock. In 2003 he joined forces with former Fabulous Thunderbirds and Roomful of Blues bassist Preston Hubbard and drummer Damien Llanes and recorded and toured as Nick Curran and the Nitelifes. The band's two records on the Blind Pig label, Dr. Velvet and Player, actually sound like classic R&B records from the late 40's and early 50's. Using a live, one-take technique and vintage recording equipment, Curran uncannily manages to recreate not only the sound but also the spirit of those earlier, wonderful times. Curran was nonetheless able to infuse each track with a freshness, urgency, and vitality that are lacking in many modern blues and rock releases. He also plays lead guitar in the Austin based Punk/ Rock and Roll band the Flash Boys. With the breakup of the Nitelifes in 2005, Curran then joined vocalist Kim Wilson's latest incarnation of The Fabulous Thunderbirds in time to record the band's 2005 release Painted On. Curran performed four songs in a scene in the 2008 HBO Series, True Blood, based on The Southern Vampire Mysteries by Charlaine Harris, which explores the co-existence of humans and vampires. After performing a solo show in November, 2008, Curran formed the rock 'n' roll roots band, Nick Curran and the Lowlifes. Curran was also in the Austin-based punk/rock 'n' roll band The Flash Boys. In 2010, Curran was diagnosed with oral cancer. A second cousin of Curran's is also named Nick Curran (he's from Fairfax, Virginia and now resides in Pennsylvania).
Curran appeared on the HBO Original Series "True Blood," playing a member of the band that performs at Arlene (Carrie Preston) and Rene's (Michael Raymond James) engagement party at Merlotte's Bar.
Read more on Last.fm
. User-contributed text is available under the Creative Commons By-SA License; additional terms may apply.
Top Tracks
1
Tough Lover 2
Women And Cadillacs
3
Kill My Baby
4
Player
5
Doctor Velvet
6
Shot Down
7
Psycho
8
Sheena's Back
9
Reform School Girl
10
i want to love you
Top Albums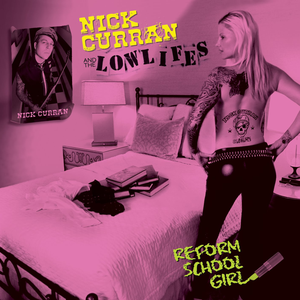 Reform School Girl
tracks